Bag O' Geeks Podcast – Episode 5 – Ghost Stories and YouTube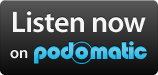 In this episode:
Bag O' Geeks Episode 5 is out for the night. We escape Dennis's mom's basement and hang out at Club 50 West for Tom's Scare Your Socks off tour. Talk some ghost stories, some YouTube, and so much more!
About Bag O' Geeks Podcast
Utah Geek Magazine has teamed up with Tom Carr's Bag of Holding Productions to create the Bag O' Geeks Podcast.  Be sure to follow Utah Geek Magazine and Bag of Holding Productions on Facebook.