Spectre [Movie Review]
Amid wide speculation over whether the latest Bond film is the last to feature Daniel Craig, Spectre continues the exploration/reinvention of the character of James Bond that has marked the actor's tenure. In fact, Spectre doubles down, delving deeper into Bond's background and psychology than any of the previous entries in the series, including even my personal favorite, On Her Majesty's Secret Service. This time, the character study winds up as the most muddled in the rebooted series, muting the delights of a Bond film with all the trimmings.
The story begins with Bond (Craig) in Mexico City on an unsanctioned mission to kill Marco Sciarra (Alessandro Cremona), an assassin with ties to a not-that-mysterious organization. Sciarra's wife, Lucia (Monica Bellucci, in a role not far from cameo), drops more bread crumbs, and Bond soon finds himself on the trail of Franz Oberhauser (Christoph Waltz), leader of Sciarra's organization. Simultaneously, Bond's superior, M (Ralph Fiennes), finds himself under alphabetical attack from C (Andrew Scott), a British intelligence official who is keen to replace human agents with a global networked surveillance system known as Nine Eyes.
It all has a rather classic Bond feel to it, complete with global plots, monologues, an unlikely desert hideaway, and the return of a vintage villain (and cat, even). This being said, times have changed, and such unlikely twists as a prior connection between Bond and the villain and the lax attempt to further link the Craig films together, including the wretched Quantum from Quantum of Solace, come across as more than a little silly. What is somewhat unusual here, although not unprecedented, is a sustained romance between Bond and Madeleine Swann (Léa Seydoux), daughter of Bond adversary Mr. White (Jesper Christensen). Unfortunately, despite the film's long running time, the love story is a bit rushed, and the ending of the film suffers because of it.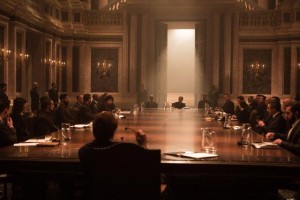 In Casino Royale, Bond is relatively young and green, while Quantum of Solace, despite its faults, does a credible job of depicting a more bitter and vengeful character. Skyfall seems to jump forward in the continuity, with Bond much older and on the verge of being washed up. Spectre, then, tries to put all of this together, but the examination of Bond is not thought out, a disappointment given the superior balance of character and action in Skyfall. Spectre in general suffers compared to its predecessor, including an opening scene that demonstrates technical prowess without grabbing the viewer. The opening song is also a giant step down, continuing the recent Bond trend of bad songs every other film.
The evidence points to Craig returning for at least one more film, welcome news to fans of one of the best Bonds. One can wish, however, for the next committee of screenwriters to bring him material better worth his time.
UGeek Rating: 6/10