Utah Winter Faire 2014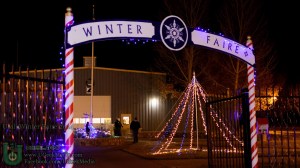 For more photos of this event, visit UGeek Media on Facebook.
We spent some time at the Utah Winter Faire each day this past weekend, and it truly is something special.  This is a small, intimate faire put on by fans as a way to continue celebrating the Renaissance during the convention off-season.  Nearly every person in attendance, both the patrons and the vendors, adorned themselves in costumes from fairies, to knights, to Steampunk Santa Clause.
Many of the vendors we have seen before, some even at Salt Lake Comic Con.  But in the sea of big name artists and attractions, the lesser known local artists are simply drowned out, or can't afford an appropriately sized table.  Not so at the Utah Winter Faire; in fact, quite the opposite is true.  I spoke directly with several of the vendors, and at least three said flat out that this was either the most success, or the most fun, they have ever had at a convention.  The intimate setting allowed fans the time they needed to talk with the artists and vendors and get to know them and their art.


If there is anything less than positive to say about the event, it's the location and the layout. It is very obvious you're in a big bland building, and I don't think much else could be done to spruce it up.  Also, everything is split between two separate buildings.  Most of the artists and vendors, as well as the main stage, were in the first building, and the live fighting, food, and games were in the second building.  Opening up the ends of each building and connecting them with tents, displays, or vendors in the area between the building would have added a nice touch, but we are dealing with the unpredictable Utah winter weather so I understand why they didn't.
At the conclusion of the event, no less than 20 vendors and entertainers took to the stage (literally) to publically thank the organizers and award them a plaque for their hard work and dedication to the community.  Their heartfelt words of appreciation led a number of audience members to tears. If you love Comic Con because of the high energy, cosplay, and big names, you'll probably be out of your element here.  But if you prefer the smaller community run events to just hang out and take the time to meet new people, you should definitely check out the faire next year.