Bag O' Geeks Episode #6 – Adrian and Dennis in Control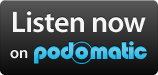 In this episode:
This week Tom is out and we let Dennis and Adrian have control, right from Dennis moms Basement.
About Bag O' Geeks Podcast
Utah Geek Magazine has teamed up with Tom Carr's Bag of Holding Productions to create the Bag O' Geeks Podcast.  Be sure to follow Utah Geek Magazine and Bag of Holding Productions on Facebook.