Salt Lake Gaming Convention, 2018 Wrap Up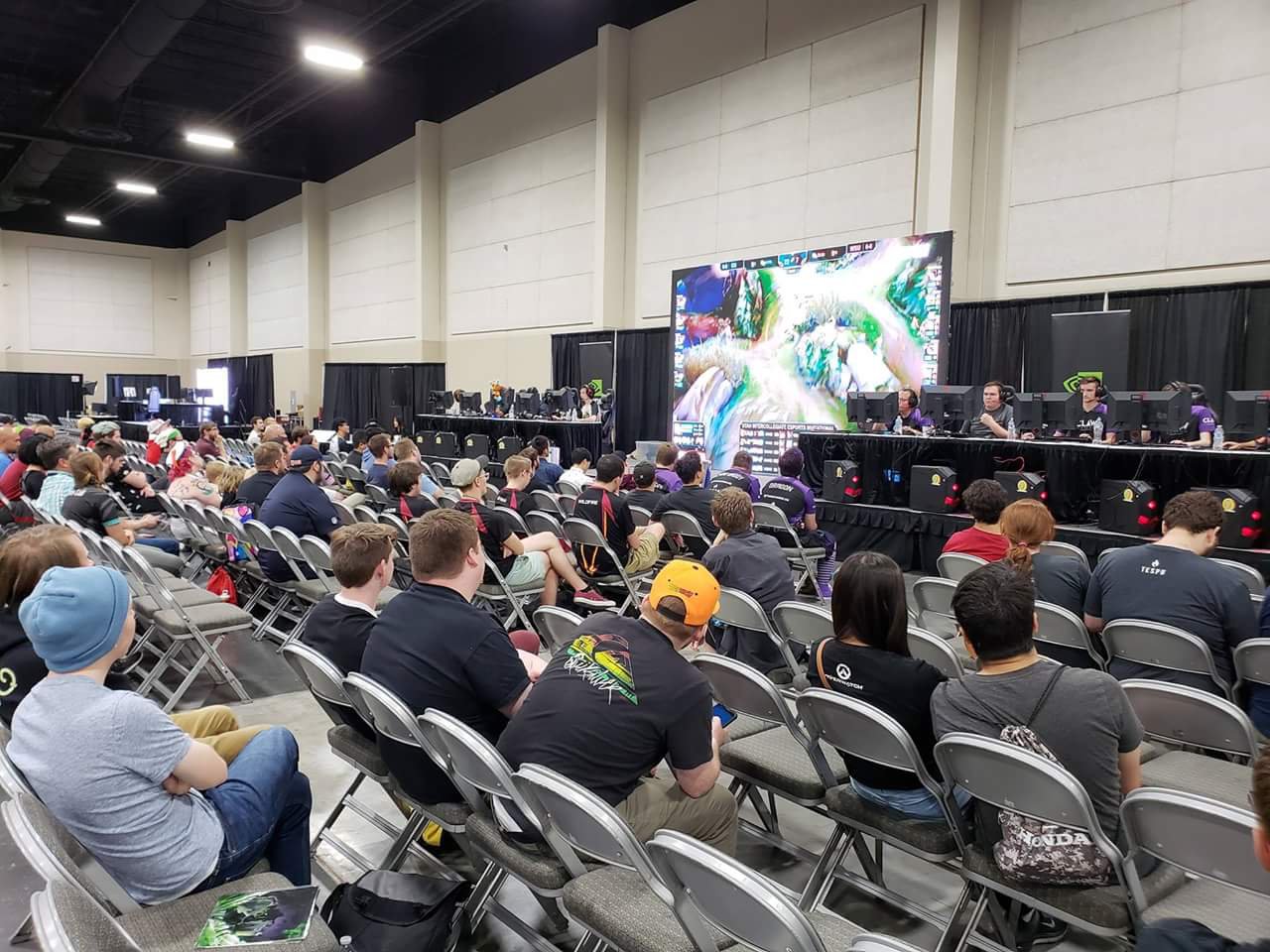 Two days of gaming and associated geekery are wrapped up for this year's edition of the Salt Lake Gaming Convention (SLGC) (website). A convention combining electronic and tabletop games is still in its infancy after only a few years of existence. This year, having lost some of their supplies to theft, presented a major hurdle they successfully overcame.
There were hardships that almost led to the convention not being held this year. I heard a few months before the regular convention date, this year wasn't going to happen, and there might not be another edition of SLGC at all. Plans changed after the gaming community started enquiring about when and where the convention was going to be this year. The organizers responded to the fans and provided the event.
On a short timeline, a convention was put together. Knowing some of the limitations they were up against, I would call this year's event a success. And, pulling it all together showed the ability to make a sustainable convention that fans can look forward to.
What did they accomplish?
Electronic Games
The electronic games area was the biggest draw, which is where the focus of the convention has been. Along with Microsoft having a showcase area, there were open areas for conventioneers to set up and play. Game pits for open multiplayer games were consistently full. There were large screen viewing areas for the competitive play, which included intercollegiate esports.
The electronics area hosted a number of tournaments, along with college teams going head-to-head. There were events for both amateur and professional players. The crowds were enthusiastic in support of their favorite players and characters. Conversations abounded through the audience about what was happening on the screen and the strategy they would have used if they were playing.
Pinball
Pinball alley returned from last year and was another place of overflowing use. New games and retro flippers were available for everyone young and old to step up and see if they had what it takes to work the digit counting ball. Standing and watching three generations of one family playing pinball together was a joy. A grandfather was standing with his grandson during his parent's turns sharing a story of how he used to meet friends to play pinball because there weren't video arcades.
Tabletop Games
St. George Tabletop Game Convention (website) provided a library of games for those who wanted to challenge their friends across a table instead of through a screen. I hope people extend a thank you to the organizers of the St. George event because it's at least a four hour drive between there and Salt Lake City. Envoy/Double Exposure (website) ambassadors were on hand helping teach games and give recommendations to those who weren't sure of what game would fit their style.
The tabletop games had their own tournaments. Both days hosted a couple dozen tables for Warhammer. Other miniature games included Star Wars and War Machine. Collector card games included Magic the Gathering, Star Wars, Pokemon, along with My Little Pony at dedicated tables.
Role playing games (RPG) were present in force due to the strong individual talents of the local Adventurer's League (website) and Pathfinder Society (website). There were other free tables running games for those looking for something different. The RPG area kept two to three dozen tables regularly filled with players from beginning to end.
Kids Zone
SLGC again provided an area dedicated to the younger players. A pirate ship was available for exploring. A Nerf battle zone and a trike race course was a place for many young gamers to burn off some the excited energy they came with. The Lego building area and tables for creative design work were places that might not have been so energetic, but they were well attended. Some groups looked like the parents took the kids in so they could build with the blocks.
Live Action Area
The arena for battle was once again erected with opposing forces facing off with foam weapons. Epic battles were waged. There was also a smaller area set up for just the younger players learning to get their battle feet under them.
Vendors
In the midst of all of this was the market place, where conventioneers were able to pick up their remembrances of the event and support their fandoms. The area had a wide selection of memorabilia, artists, game designers, and promotional areas for other groups and events.
Guests and Panels
The guests and panelists were well received.
Great voice actors were there to share what they do and who they are. Charles Martinet (website) of Mario fame. The cast of God of War included Christopher Judge (Facebook), Danielle Bisutti (website), Jeremy Davie (imdb), and Robert Craighead (Twitter). The Legend of Zelda: Breath of the Wild was represented by Patricia Summersett (website), Elizabeth Maxwell (website), Andi Gibson (website), Bill Rogers (Twitter), Jamie Mortellaro (Twitter), and Joe Hernandez (Twitter). And, Chloe Hollings (Twitter) from Overwatch, Victoria Atkin (Twitter) from Assassin's Creed Syndicate, Jason Charles Miller (website) of Geek and Sundry, and Jason Hayes (composer) (Twitter) were also talked about their experiences.
The panels covered topics about all types of gaming and other areas of interest.
Cosplay
Cosplay wasn't left out. There was a competition which was highlighted by Zabracus (Twitter) and Missy Mayhem (Twitter). These Two local talents provided insight for those who want to do cosplay.
Overall
These were two days packed with a lot of activities a person could get involved with.
I've had the opportunity of attending this convention every year since its inception. This year was a struggle. Even with the struggles, the organizers had the guts to push forward when others may have folded. That showed their strength and the power of the gaming community in SLC. My hat's off to their success (and, yes, I wear a hat when I go to conventions).
There will be more articles coming from my experiences at SLGC 2018. I look forward to seeing more of this convention in the future and watching it grow into what it is capable of producing for the gamers supporting it.
This article also submitted for publication to Guild Master Gaming and Big Shiny Robot.