Bag O' Geeks Episode #10 – LTUE, FanX, Gross Out, and X Files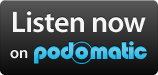 In this episode:
This week we talk LTUE, Fan X, Gross out the Geek and X Files. Check it out.
Gross Out Links
About Bag O' Geeks Podcast
Utah Geek Magazine has teamed up with Tom Carr's Bag of Holding Productions to create the Bag O' Geeks Podcast.  Be sure to follow Utah Geek Magazine and Bag of Holding Productions on Facebook.