Japanese Spiderman – Video Geek Hunter from the Fifth Dimension: Entry 1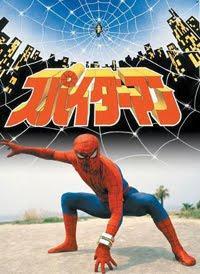 Families fight. It's a fact. A big family increases the level of deep conflict and this conflict can last for years, decades. Hollywood is exactly like one big dysfunctional and sometimes incestual family. No, we aren't talking about polygamy. We are talking about the labyrinth of issues that can be created when we bring up copyright ownership. Who really owns Batman? DC. Who really owns Thor? Marvel. But, there was a time, not so long ago, in the 1970's when Marvel still owned the rights to one of the most known super heroes of all time – Spiderman.
However, the current legal battle between Sony and Marvel that has lasted decades over the true owners of majority rights to Spiderman is more interesting than watching Toby Maguire prancing around on screen being a Goth boy in Spiderman 3. This battle changes every other week it seems and there are rumors of the Web Head in Avengers 2 than times they have said "Kim Kardashian has broken the Internet." But lets jump back in time using a hot tub time machine to the 1970's.
The year is 1977. America pumps out a Spiderman TV series and TV movies that makes Stan Lee not a happy camper. In an interview with the man, myth and co-creator of the most famous wall crawler swinging onto television he states "I was disappointed." Thus, Marvel found an opportunity one year later to partner with a Japanese company called TOEI to make – Supaidaman aka Japanese Spiderman. This was a relationship that fizzled but both parties seemed to win from the apparently one time deal.
Supaidaman lasted longer than most series with 38 episodes but what was more interesting is what Supaidaman gave birth to years later. This shows template was the formula used for a little show you may have heard of called the Mighty Morphin Power Rangers still running today with multiple spin offs and incarnations. Style such as the Kung Fu movie fast zoom in on a character and posing for 3 seconds on screen before a fight scene were all used during the run of Supaidaman.
Often referred to as Japanese Spiderman, Supaidaman changed a LOT in the translation about typical Spiderman origin story of our Japanese Peter Parker-ish hero AND adding elements that will never be brought back to America. At no point will you more than likely ever see again a Spiderman car, Spiderman in a Giant Robot fighting huge bug creatures with a sword, Spiderman NOT really swinging much (hence the robot and the car) or the villain called Professor Monster who controls the Cat Demon. Nor will Andrew Garfield ever be caught dead in the Spiderman costume shooting a machine gun or fighting another villain named Amazoness. Wait, Andrew G decided not to go to a Marvel function last year with Marvel execs present so he got himself fired from the franchise. Nevermind.
Yes, all that (except the Andrew Garfield thing) is in the show. Truly. Watch the trailer here https://www.youtube.com/watch?v=3MxGtH-2duM
The scene was set for Spiderman to swing into the hearts of the Japanese people and when it comes down to it this show could have been called Spiderman Vs. Hot Female Villains and Weird Creatures. Everything in the 1970's was more difficult when it comes to making films at all so, as it goes, it is fine
technically. And had a long run. So, suffice to say, there are MUCH worse foreign adaptations of American pop culture characters. With that said, episodes of Supaidaman take forever to get going. The action is VERY Japanese and hard to follow. My biggest problem with it is you have to wait until the middle of the episode to even see the action with still no real swinging due to the lack of technology.
It's not a great series but trying to look at the series from the 1970's perspective, it's not horrible. Comic conventions and maybe random sellers on Amazon may have copies of this show but in this day and age you can binge watch the entire series of 38 episodes if you wish. Yes. This show lasted longer than the American show – much longer.
But the Japanese culture obviously was fine with villains in later episodes with names like Cat Demon and the titles of the episodes are also interesting. The episode titles are very long like Episode 38: The Twinkling Star of Twilight and the Youth Detective Club. My favorite episode title is for Episode 33: The Incredible Wild Girl Who Bullies Boys when Supaidaman saves the girl from a fire fox villain who looks like the fox from What Does the Fox Say? music video. And they were fine with Spiderman not really swinging. Or web slinging. Like, ever. He ran a lot. I mean, a lot. Went up stuff a little. Like, really a little.
Most of that was due to the decade and lack of technology. So, Supaidaman gets a pass on tons of criticism with the lack of swinging. I guess. Just know what you are getting yourself into if you decide to get into this seires. It is worth a peak. Just a peak. So, maybe, don't block out almost 9 hours to watch all 24 minute episodes. Only hard core Spiderman fans will love this series. In my opinion.
This rare series gets 2.5 out of 5 Supaidamans.
NEXT WEEK'S REVIEW: Real Genius