Bag O' Geeks Episode #9 – New Year, Holidays, Geek Films, Zachary Hill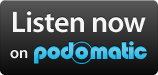 In this episode:
New year, we talk the holidays, Geek films and we honor a lost friend Zachary Hill.
About Bag O' Geeks Podcast
Utah Geek Magazine has teamed up with Tom Carr's Bag of Holding Productions to create the Bag O' Geeks Podcast.  Be sure to follow Utah Geek Magazine and Bag of Holding Productions on Facebook.